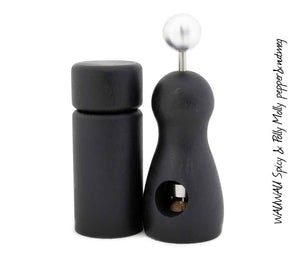 WauWau Spicy & Polly Molly Grinder Set!
A pepper grinder and a nutmeg grinder!
Pepper, and also the nutmeg should be fresh grind! This grinder set is perfect for the dining table and also for cooking!

Pepper Grinder: Spicy beechwood black
Nutmeg Grinder: Polly Molly beechwood black

Grinder Set: Pepper grinder "Spicy" + Nutmeg grinder "Polly Molly"

Material: beechwood stained black, surface sealed with hardwax oil | Size: 11 cm/14cm | Pepper grinder: WauWau stainless-steel pepper grinder mechanism with fine adjustment / Nutmeg grinder: Swiss-made grinding mechanism | Content: Filled with organic black pepper "Tellichery" / Stock with an organic nutmeg nut!